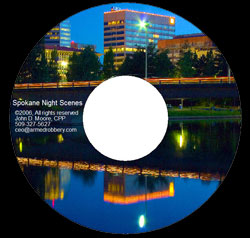 Ordering a Spokane Night Scenes image DVDR

Holiday gifts, calendars, computer screen backgrounds,

post cards, large posters, your DVDR gives you the

flexibility to enjoy Spokane, after dark. Use your images in your home slide programs, or on any size electronic digital frame for revolving looks at Spokane. Print and then frame your own local photographs and poster sized wall art!
Download a contact sheet (PDF) to review

the images on each DVDR. Some of the images on your DVDR are original and have not been presented on the web.
Poster sized DVDR images may be printed as large as 60" X 85". Your Spokane Night Scenes DVDR contains 435 JPEG image files, and is 3.36GB in size ($315.95 US). This is a non commercial use DVDR.
If you need assistance with any of the Spokane Night Scenes images, contact the Spokane office. We can edit any additional images you need for your project. It is likely we can transfer your edited (larger) images to you by email.
PO Box 18715
Spokane, Washington, USA
99228-0715
Office hours 7AM-7PM M-F (PST)
509-993-4882
ęCopyright 2013
By John D. Moore, CPP